Pinsarella Pinsa & Mozzarella.
Pinsa A lighter, healthier version of our beloved authentic Italian pizza. Crunchy outside, Soft inside. More digestible, low calorie, and low fat !
Our goal is to bring Slow & Healthy Italian Food into the world, only good quality fresh food.  
Pinsarella combine two of the symbols of Italian gastronomic excellence " PINSA Romana! A lighter, healthier version of our beloved authentic Italian pizza & Mozzarella".
Our goal is to offer, even to distant customers, authentically Italian food. Freshly Hand Made Locally.
We make Pinsa & Mozzarella ourselves and right in front of our customers, who can still taste them hot, after sharing with us the beauty of a healthy and natural production process. This is  the bet of  Pinsarella "Pinsa & Mozzarella": always being able to offer – even in faraway places, fresh, healthy and quality products.
Our idea was not only to create a place where you can feel enveloped by the unique Italian atmosphere but also to be able to independently produce the main products that we sell: la Pinsa and Mozzarella.
To seize this goal, we at Pinsarella can install our laboratories directly and in direct view of the customers in just a few square meters. The first is a Laboratory for the production of Pinsa and the other a real mini cheese factory where produce mozzarella cheese, and burrata. Environments designed to produce in a simple and artisan way that do not require high professionalism. Our processing methods have been designed, in fact, so that they can be performed even by those who have never had any experience in the field of food and catering. 
Do you want to open a pizzeria or a pinseria?
Invest in one of the fastest growing sectors in recent years. Open your Pinsarella sales point in franchising right away.  You need a minimum investment, we turn key to everything else.
Choose the right one for you from our Format
1 Pinseria & Mozzarella Bar
2) Pinseria to go
3) Pinsarella Corner
4) Pinsarella Street Food Truck.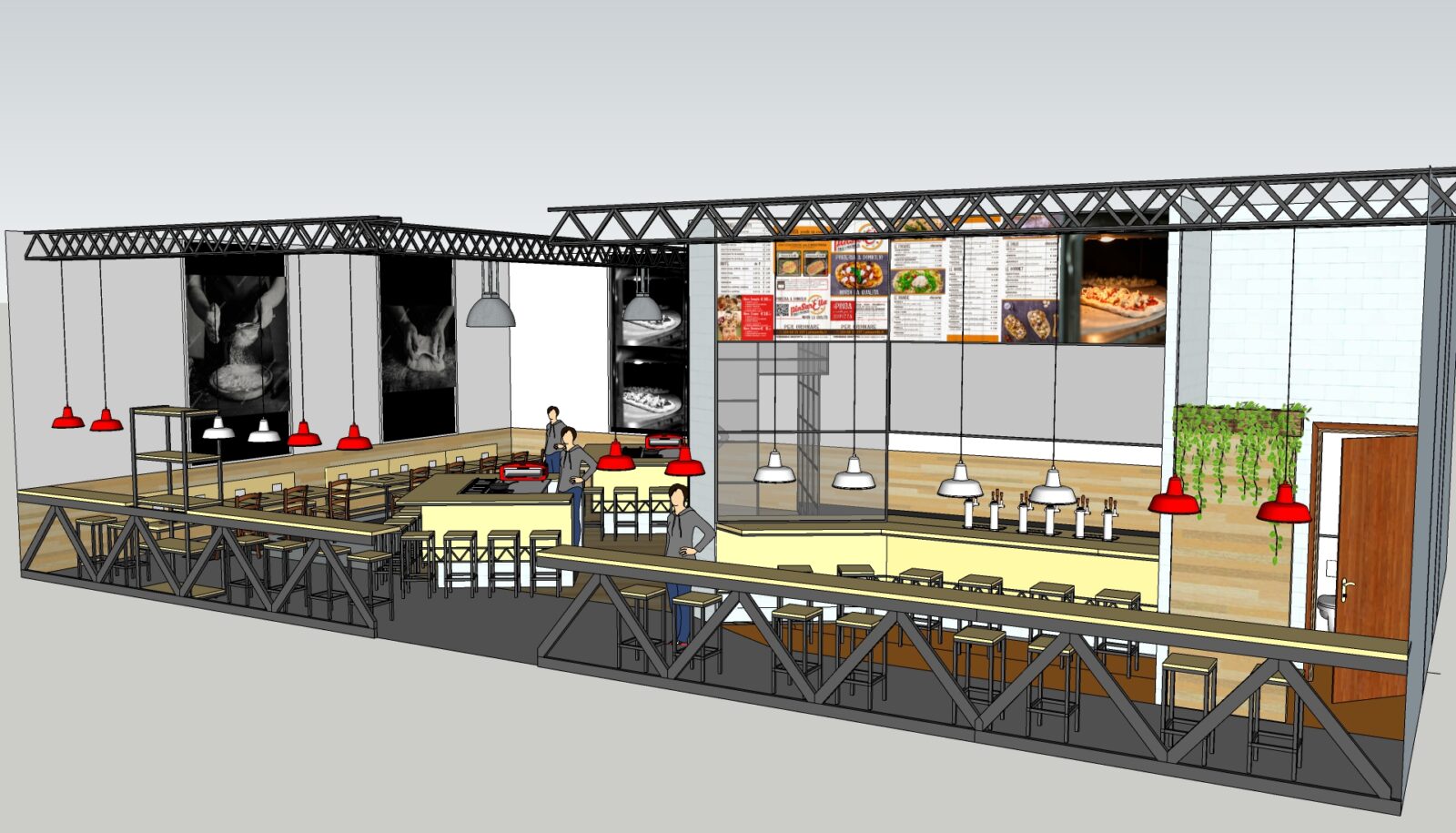 1. Pinseria & Mozzarella Bar
An environment where the customer is completely enveloped by the charm of the production of pinsa and mozzarella & Co. A Pinseria with instant production with adjoining administration and sale both on site and at home; a family atmosphere, clean, modern, where you can feel enveloped by the unique Italian atmosphere, where you can enjoy a simple menu built around our main products la Pinsa and La Mozzarella combined with original and fresh condiments. Visible to the client are the pinsa and mozzarella production workshops and at the same time the display counters of the finished product Pinsa Romana, Mozzarella & co. In the room – in industrial style– in addition to a fast and efficient service, there are counters where you can display the seasoned pinsa ready to be tasted, as well as display containers with bases of oven-baked pins packaged in a controlled atmosphere and mozzarella & co. Products all with the Pinsarella brand that, in addition to being sold on site, can also be  delivered to your home. In this format a variant of the mini dairy can be the workbench for hand spinning and mozzarella, the artisanal preparation of burrata that customers can taste, buy as soon as they are made.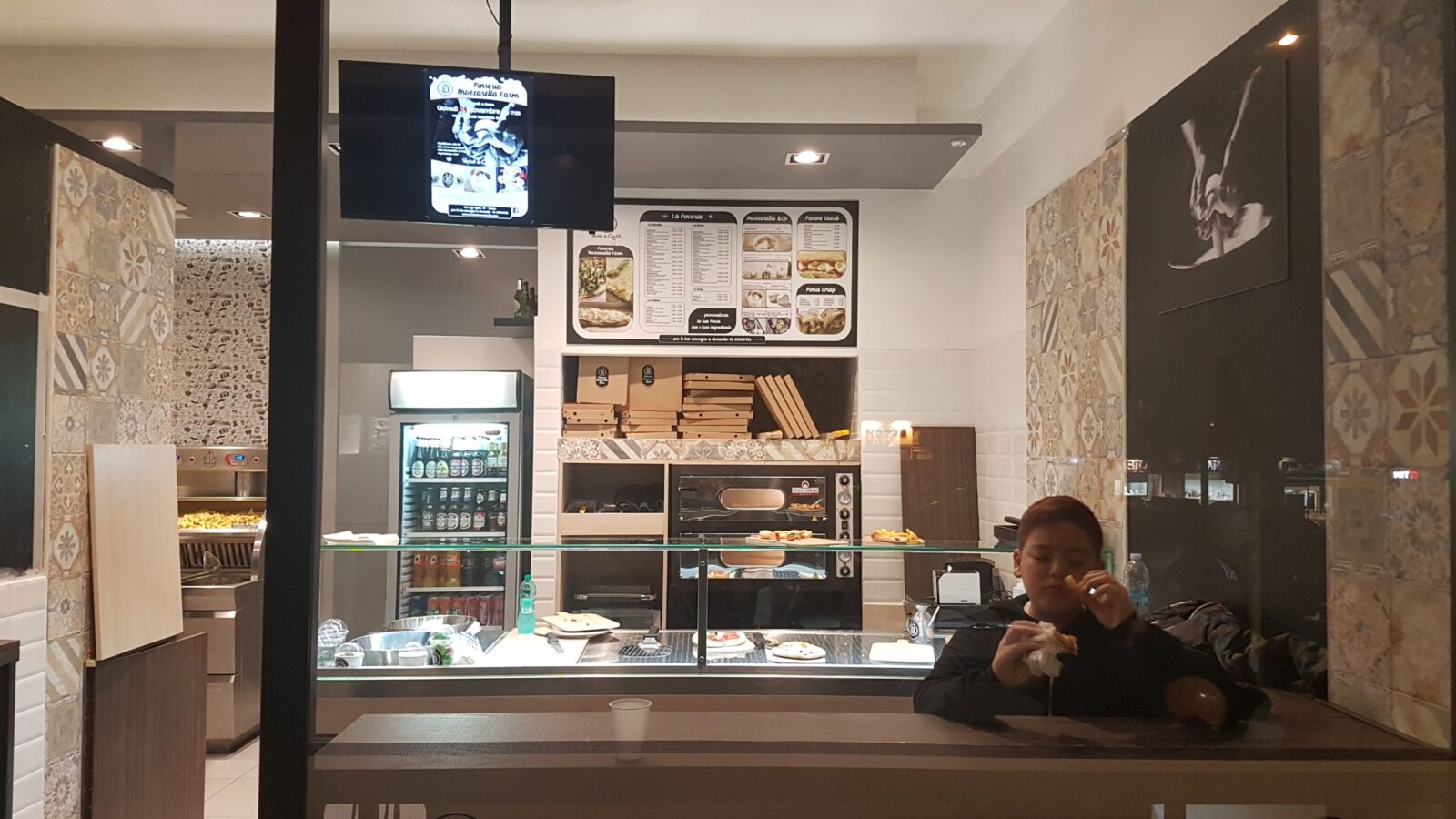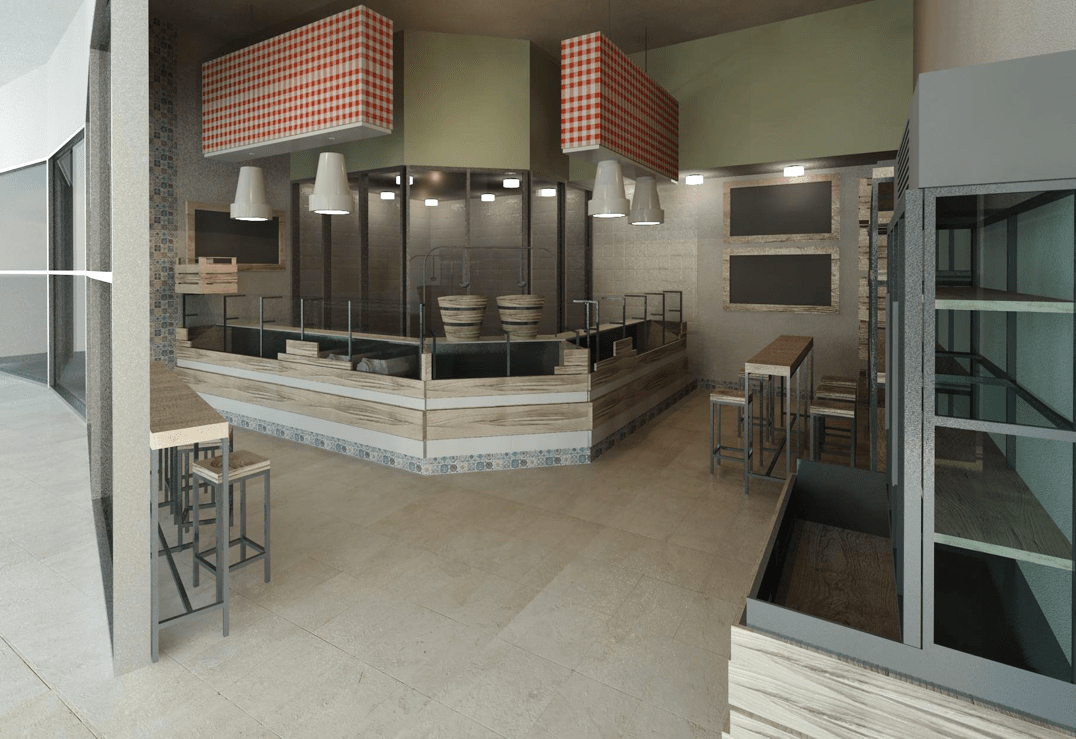 2. Pinseria to go. 
 A variation of the format indicated above is that of bench-top Pinseria. In this type of premises, oven-baked Pinsa bases are delivered daily by the Pinsarella laboratory. Only the seasoning and the final cooking  of the Pinsa will take place in the Bench Pinseria, which can be administered to the client in just a few minutes .In these rooms the customer, in addition to enjoying the freshly baked pinsa right in front of his eyes, will be able to buy the bases of oven-baked pinsa that, packaged in a controlled atmosphere (ATM), the customer can prepare as he wishes directly at home. Bench pinseria is ideal for areas with a high population density, city center, pedestrian zones characterized by heavy traffic or high traffic, shopping malls or locations with a high presence of offices. In the shop there will be a counter where to display the pinsas, the preparation and administration will be expressed being able to count on a table with refrigerated dressings placed in the mini laboratory and the oven in view of the customer.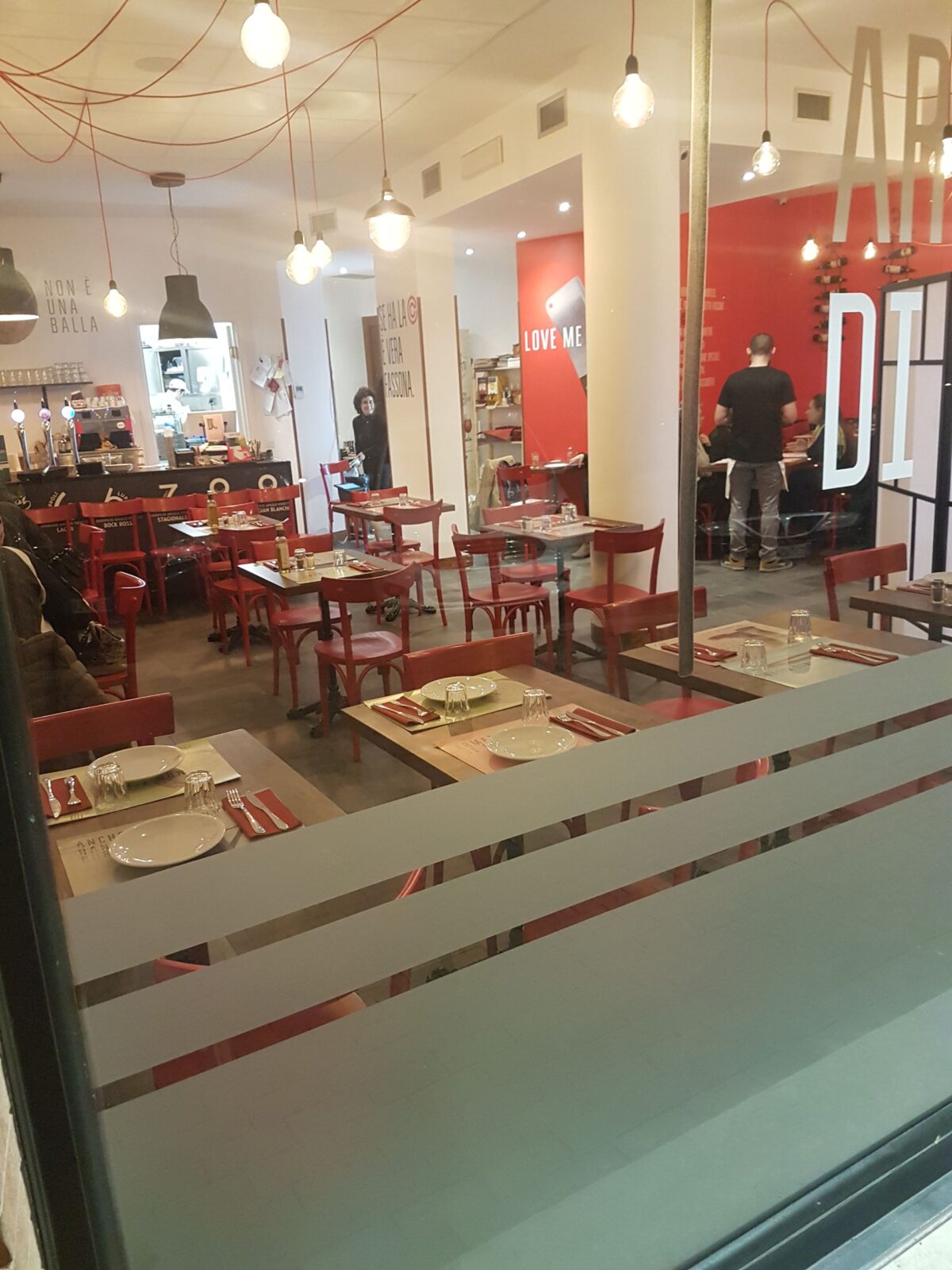 3. Pinsarella Corner
directed to the sole preparation (seasoning and final cooking) and administration of pinsa placed in very small space  (10 x 10 sf)  within already existing activities , are the same ones already dedicated to the preparation and administration of foods such as bars, sandwich shop, restaurants, pizzerias, and places where different activities such as gyms, hotels, bathing establishments, etc. are carried out. there is a need to expand in terms of commercial offer with pinsarella brand products.  A corner where, depending on the production needs, you insert a bench-top oven of modest size, if necessary a fridge with condiments, a fridge for displaying products. A variation on the corner dedicated to the preparation and administration of pinsa.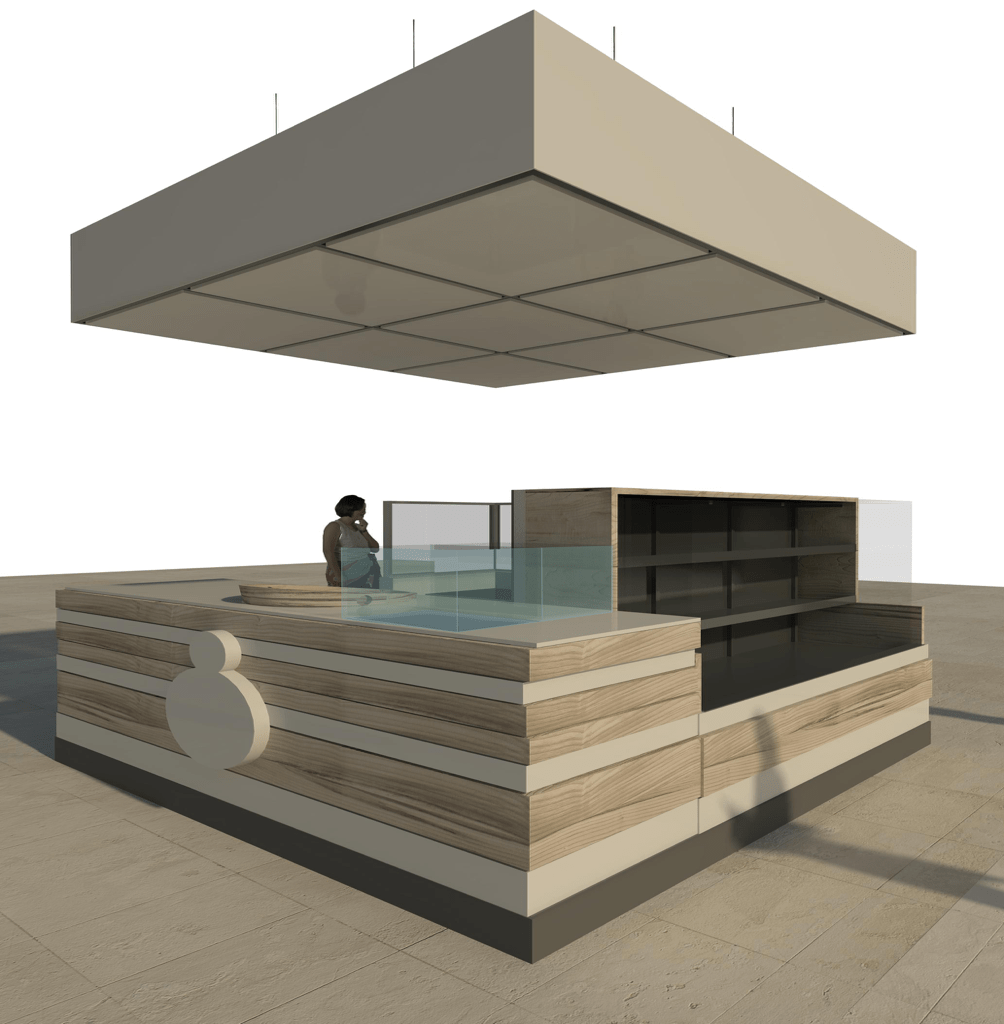 4. Pinsarella Street Food Truck.
The bee has become the symbol of made in Italy street food ,  set up with our style and our products for every food and wine event and at the same time a  traveling and light sales point ,supplied by the Laboratory, as well as being used as a means of transport for home deliveries . Thanks to the  Truck  or other means of transport we can talk about a new concept of the  deliveries. It is a question of creating a network of home deliveries of the finished product, that is to say the ready-to-dress bases and cook comfortably at home in just a few minutes, so as to provide customers with a complete service. For all people who do not have time to leave home or the office, a rapid delivery in total guarantee and hygiene, creating a real point of sale that will be located in strategic positions … roads, squares, markets.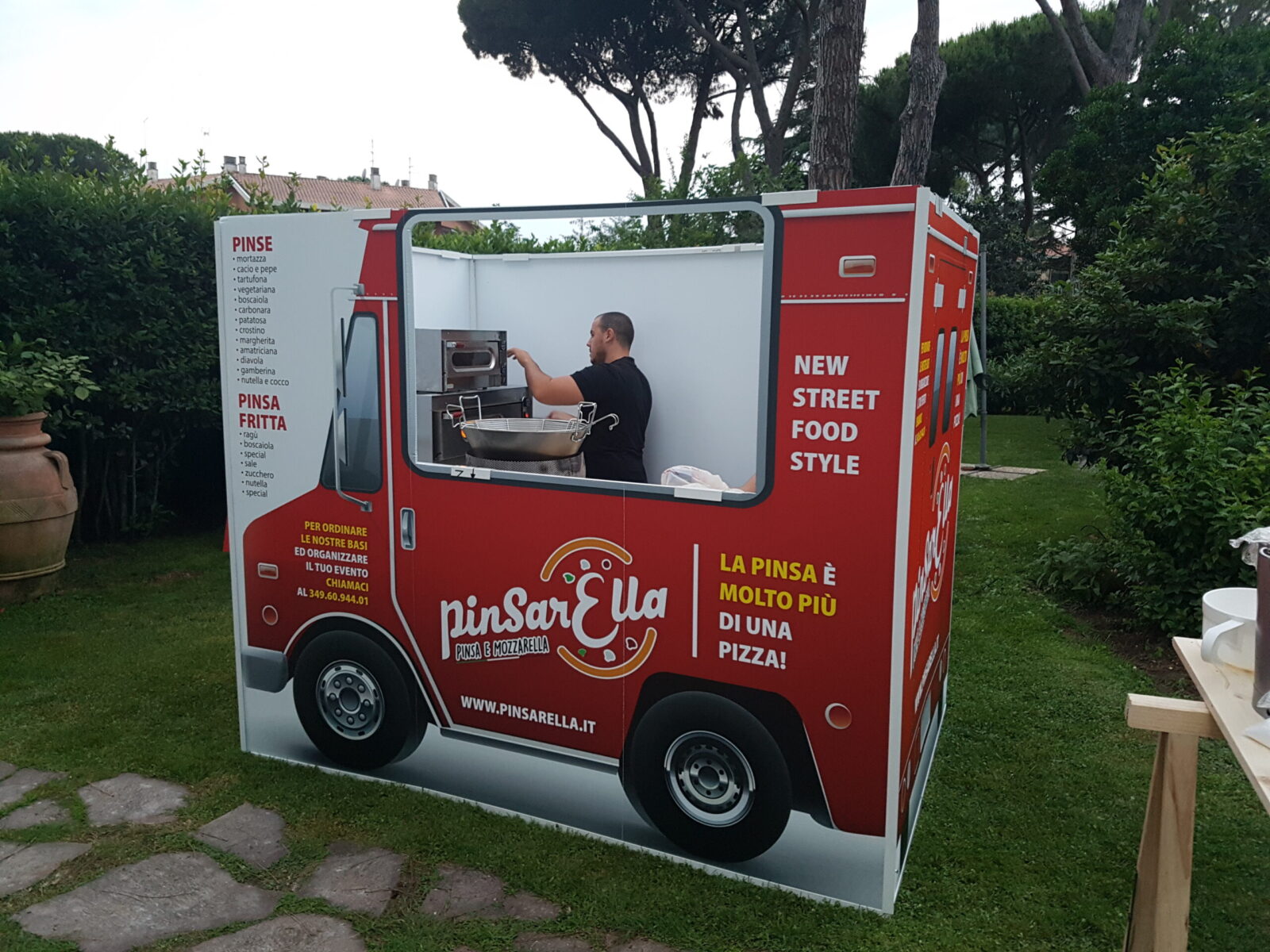 STRONG POINTS OF PINSARELLA
The points of strength of our idea of ​​doing Business are different, among these the most significant: Freshly Hand Made Locally. Being able to manage the  production  of the main products on which the Pinsa and Mozza-rella brend is based directly                                 on site  and  without  the need of having to resort to  qualified personnel . 
being autonomous in the production of the company's main products means being able to be autonomous, but above all saving on food costs up to 150% ;
being able to realize the concept in every part of the world,  standardizing the production processes  and therefore being able to serve the  products  in a  standard  and original way, always  fresh and of quality ;
a  new idea of ​​making food that involves the customer  from the production of the product making him see every production process so that he can feel the fragrance of the Italian culinary tradition; the food passes  from the production to the table in a few minutes all under the eyes of the customer;
being able to count on an  autonomous distribution and logistics network , managed for the most part within the company, both the production and distribution of the main products is managed within the company;
the hot mozzarella  just made is served alone or accompanied in different ways as well as the pinsa can be seasoned by many combinations of products flavors and fragrances, to the unique Pinsarella;
to be able to realize their menus in a standard, simple, fast way and without the need to resort to specialized figures, thus obtaining a sure  saving on the cost of the personnel as  well as on the food cost but above all making the  products and the menu of Pinsarella unique and always original fresh and quality. 
Opening a Pinsarella Store is simple and convenient. We will take care about all that you need for that.  We deliver the turnkey sales point. 
Our project is aimed at:
– To young entrepreneurs  who can open a business,  without the need to have any experience  in the catering field. Just a small investment and only two people to open a Pinseria or one for street food Truck. And if you work in a team and have a bit more initiative, the Full Concept Pinseriae & Mozzarella factory is the right choice. – To the traditional operators  of the sector who want to differentiate or implement their operations with the possibility of expanding their job opportunities with fixed, mobile or traveling locations or just inserting new products, such as the Pinsarella Pinsa brand, into their activities. Mozzarella cheese. – To operators in the catering sector and to the large distribution chains  that could use the "concept" to expand the marketing of Pinsa Romana and Mozzarella through the creation of laboratories and mini dairies or spinning tables serving their own stores or corners within existing stores, thus creating more attraction for their stores, or just inserting new products, those with the Pinsarella brand, into their activities. – To the final consumer  giving the possibility to enjoy a healthy meal – if you want – even in a fast way but that preserves the taste and flavor of the Italian tradition, a meal with products that are always fresh and of quality. THE FRANCHISING And now that you have discovered the CONCEPT PINSARELLA  you just have to contact us immediately for a consultation without commitment. We take care about all.
Contact Us Now Using the Underlying Form for a Free Consultation