Do you want to open a pizzeria ops a pinseria? Pinsa, the oldest of pizzas, so much so that it can be defined as the pizza of the Romans, is the future of slow, street food and table catering: invest in one of the fastest growing sectors in recent years. Open your Pinsarella store immediately: our formula is cheaper and more flexible than the classic franchise. We do not ask you for any royalties or entrance fees, you need a minimum investment, we'll take care of the rest.
"Choose a job you love and you won't work a single day of your life" (Confucius)
Choose the Right Format for You

1 . Pinseria & Mozzarella factory
2. La Pinseria take away
3. Pinsarella  Corner
4. Foodtruck
Pinsarella is an authentic Italian story intended to promote, in the United States and worldwide, two excellence of Italian cuisine: Pinsa Romana, the most ancient pizza recipe, and Mozzarella, mixture of milk from a buffalo and a cow.
The idea of Michele Pagano, project founder and CEO, and Daniele Bonaiti, entrepreneur, is to introduce these two unique Italian cuisines by producing the products locally under one facility, named Pinseria. Our goal is to offer, even to distant customers, authentically Italian food. Freshly Hand Made Locally.
We have different formats to promote the our products:
Not just for big companies, but also for young entrepreneurs without any experience, with love for good Italian food. To join Pinsarrella family just have passion and initiative!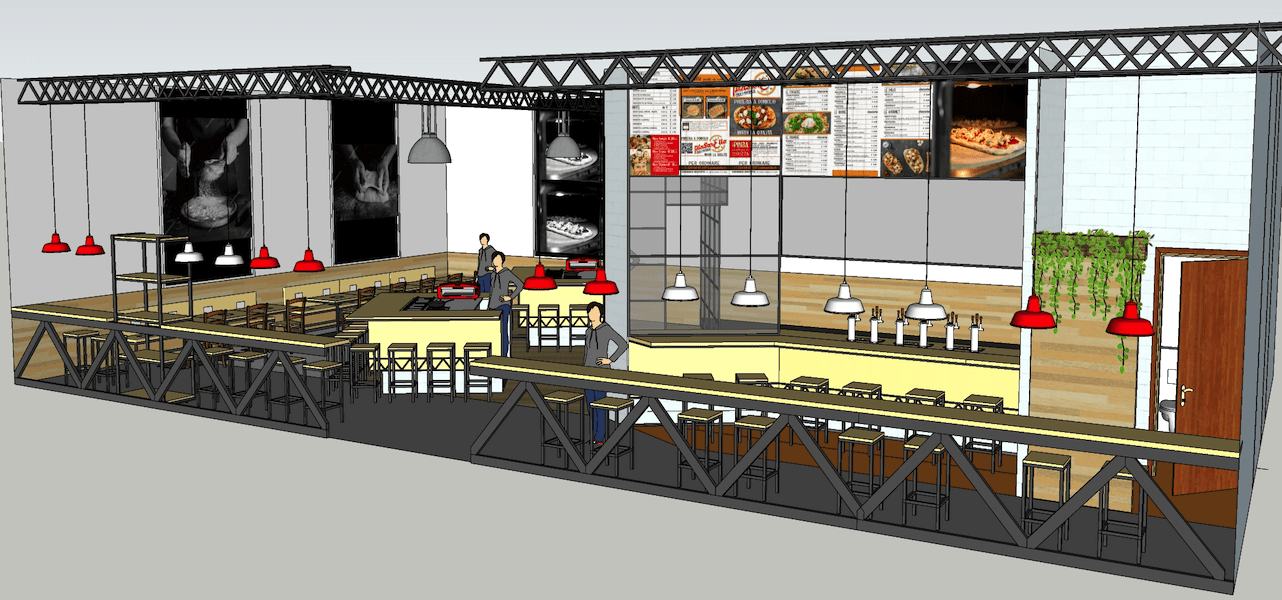 How to promote our products, the formats:
1. Pinsarella italia
An environment in which the customer is completely enveloped by the charm of the production of the ancient Roman pizza and mozzarella & Co. A familiar, clean, industrial environment, where you can feel enveloped by the unique Italian atmosphere, where you can enjoy a simple menu built around our main products, the Pinsa Romana and the Mozzarella paired with original and fresh condiments. A menu where, in addition to the classic condiments, you can find special gourmet combinations and our pizza desserts.
Visible to the customers are the mozzarella and pizza production laboratory and at the same time a display counters; with the finished products Pinsa Romana, & Mozzarella co ready to be enjoyed, as well as refrigerated display containing pre-made pizza crust that customers can take and baked at home in just 3 minutes.  From this mini cheese dairy or workbench cheese we made hand-spinning mozzarella, burrata & more in front of customers.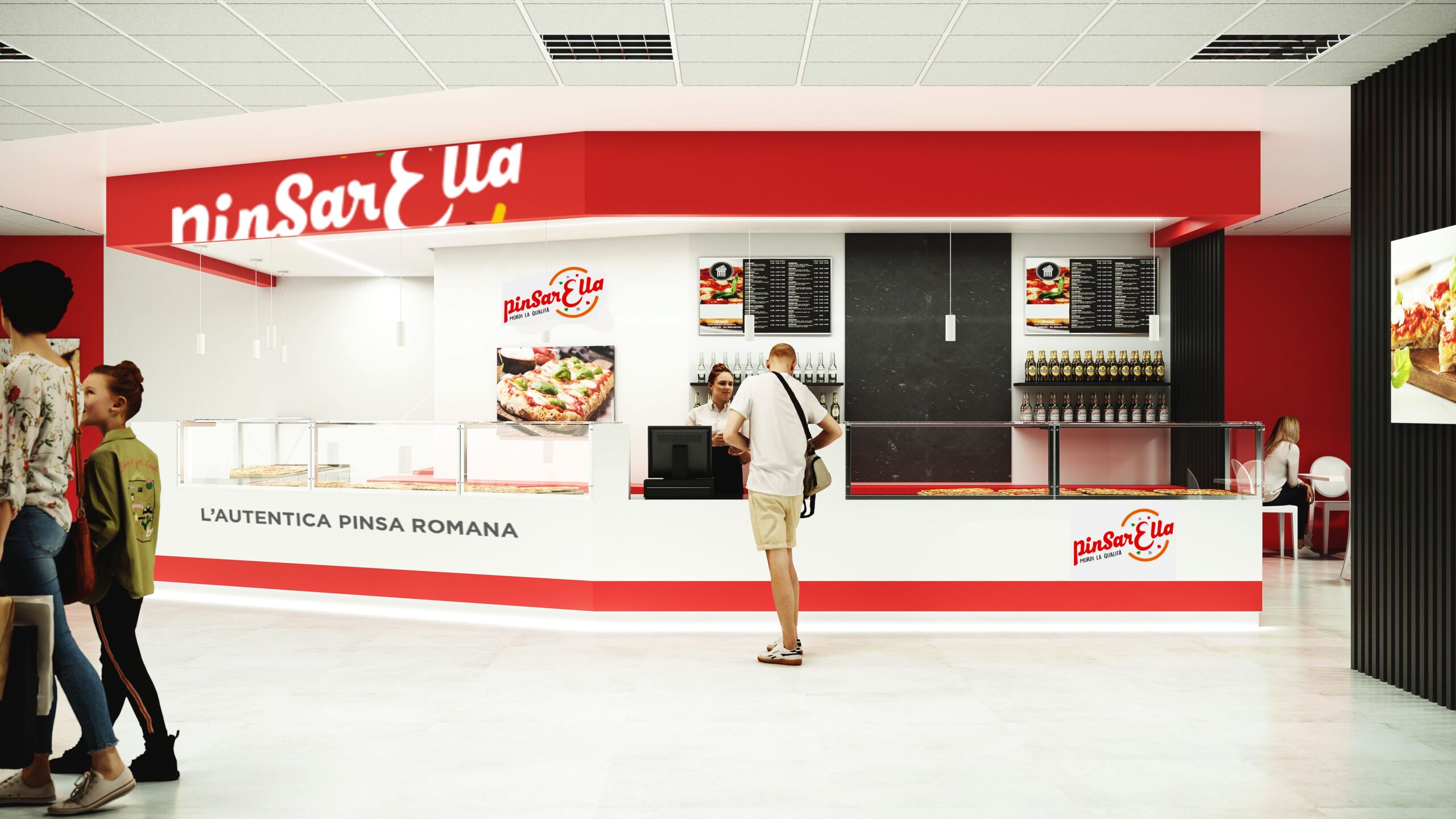 2. Pinsarella Take Away Pizza
In this type of shop, there isn't a laboratory for production. Pre baked pinsa crusts are supplied daily by the closer Pinsarella laboratory or Pinseria. Here we operate just the final cooking of the Pinsa which can be served to our customers in just a few minutes . In this shops there will be a counter to display the pizza already baked and the pre made pizza crust that the costumers can build as they like.  Prepping and baking will be made in front of the customers.In these shops the customers will be able also to buy our mozzarella and our pre made pinsa crusts with or without toppings, that can be prepared as they wish directly at home. Pinsarella shop is ideal for areas with a high population density, city center, pedestrian areas characterized by heavy foot traffic, shopping malls or business areas with offices as we provide a quick high quality lunch.
3. Pinsarella Corner
The pinsarella shop can fit also in a small Kiosk 10 x 10 sf within structures such as shopping centers, supermarkets, malls, restaurants. A corner that needs just a fridge with condiments and a small oven for the preparation of Pinsa Romana. Oven that can be "ventless" without need of the hood.
Our franchising project provides the possibility of affiliation through different solutions for all needs (La Pinseria Italiana, or Shop/Kiosk Pinsarella even with limited investments.
Our project allows you to achieve great production efficiency without the need to find specialized operators as the workstation is designed with advanced technologies that simplify the preparation operations.
3. Pinsarella Foodtruck
The foodtruck is the symbol of street food: we can set up with our style and our products for every food and wine event and at the same time an itinerant and light point of sale, supplied by the Laboratory, as well as being used as a means of transport for home delivery. Thanks to the Ape Operaia or other means of transport, we can talk about a new concept of deliveries.
It is about creating a home delivery network of the finished product or the pinsa bases ready to season and cook comfortably at home in just a few minutes, in order to provide customers with a 360 ° service. For all people who do not have time to leave the house or the office, fast delivery in total guarantee and hygiene, creating a real store that will be stationed in strategic positions …. streets, squares, markets.
Open Your Pizzeria
01 LOCATION
Do you have a position? if so, contact us!
Otherwise, book the project and find your place;
02 THE PROJECT

Send us a photo or video of the restaurant and the area, our expert will call you for a site inspection.
03 SITE INSPECTION
Our experts will make an appointment for the inspection, measurements and necessary adjustments;
04 DESIGN AND ADJUSTMENTS
Free and complete design of the room based on the project you can carry out, with our support, the adaptation works (systems, etc.);
05 EQUIPMENT
Once the adaptation works have been completed and verified, we will provide for the free delivery and installation of all the furnishings;
06 TRAINING
Seguirai un breve corso di formazione presso le nostre sedi che ti permetterà di gestire il tuo locale Pinsarella;
07STARTUP 
Guaranteed support from our professionals during startup, marketing and promotions:
08 ASSISTANCE
You will always be supported by our group for the entire duration of the affiliation.
N.B. ON THE EXPIRATION OF THE AFFILIATION ALL THE FURNITURE WILL BE YOUR PROPERTY
 What makes us unique is this!
Our concept is characterized by having the customer both the production of mozzarella and fresh burrata, and that of the ancient Roman pinsa;

This mean, possibility to have in every part of the world Pinsa end Mozzarella & Co. always fresh and authentically Italian;

For do that don't need a pizzaman or cheesemaker, Lab and process designed to produce in a simple and artisanal way without any professionalism. Our production methods have been designed for people that had never had any experience.
Pinsarella Strengths:
Production of the main products directly on site;

First Company to bring in the U.S. the Authentic Pinsa Romana and at the same time to be able to produce mozzarella for our pinsa on site in front of customers;

Self production of the main products will save on food costs up to 150%;

Possibility to expand the concept worldwide, standardizing the production processes and providing products in a standard and original way;

Have the customer "involved" in a complete food experience; by seeing the actual production before tasting the authentic Italian food.

No need of specialized employees. Low labor costs, but keeping a standard high quality.
-Our challenge is to merge Taste and Tradition for increasingly demand of healthy, fresh and quality food even for a quick lunch or snack.
a  

new idea of ​​making food that involves the customer

  from the production of the product making him see every production process so that he can feel the fragrance of the Italian culinary tradition; the food passes  

from the production to the table in a few minutes all under the eyes of the customer;
Opening a Pinsarella Store is simple and convenient. We will take care about all that you need for that.
 We deliver the turnkey sales point. 
Our project is aimed at:
– To young entrepreneurs  who can open a business,  without the need to have any experience  in the catering field. Just a small investment and only two people to open a Pinseria or one for street food Truck. And if you work in a team and have a bit more initiative, the Full Concept Pinseriae & Mozzarella factory is the right choice.
– To the traditional operators  of the sector who want to differentiate or implement their operations with the possibility of expanding their job opportunities with fixed, mobile or traveling locations or just inserting new products, such as the Pinsarella Pinsa brand, into their activities. Mozzarella cheese.
– To operators in the catering sector and to the large distribution chains  that could use the "concept" to expand the marketing of Pinsa Romana and Mozzarella through the creation of laboratories and mini dairies or spinning tables serving their own stores or corners within existing stores, thus creating more attraction for their stores, or just inserting new products, those with the Pinsarella brand, into their activities.
– To the final consumer  giving the possibility to enjoy a healthy meal – if you want – even in a fast way but that preserves the taste and flavor of the Italian tradition, a meal with products that are always fresh and of quality. THE FRANCHISING And now that you have discovered the CONCEPT PINSARELLA  you just have to contact us immediately for a consultation without commitment. We take care about all.